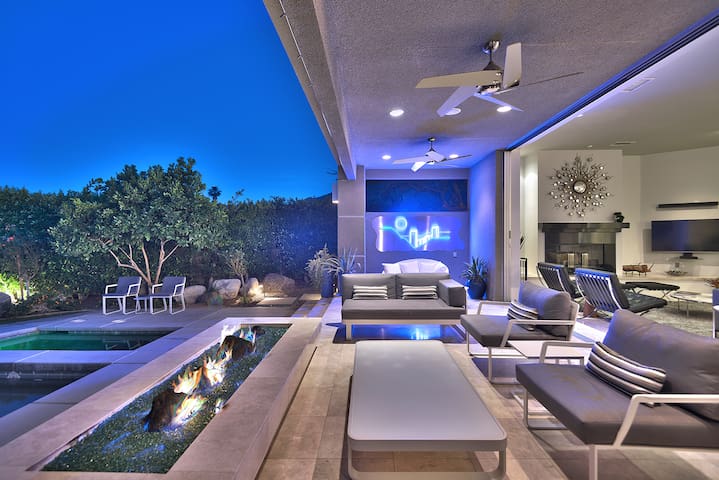 Hermoso 2,600 metros cuadrados / ft Villa de lujo para 6 personas en lo alto de Palm Springs
Beautiful 2,600 Sq/ft Luxury Villa For 6 People Perched Above Palm Springs
El lugar
Desert Knoll is the perfect name for this beautiful 2,600 Sq/ft Luxury Villa on 1/3 of an acre perched on the hills above Palm Springs. Desert Knoll isolates its 6 guests from neighbours and street with privacy hedges and trees on three sides yet it provides sweeping vistas of the desert, mountains and great southern exposure. Desert Knoll is not a Party house. From the moment you enter the front gate you'll enjoy the impressive desert modern architecture, high end finishes, stylish modern furnishings, and gorgeous artwork in this steel, glass and concrete masterpiece. City of Palm Springs ID #2392
Desert Knoll is conveniently located 5 minutes from downtown Palm Springs, on a quiet street overlooking the Coachella Valley with the San Jacinto Mountains right behind it. Its also close to Rancho Mirage and Palm Desert. Desert Knoll IS NOT A PARTY House, if that is the main focus of your trip, this is not the right house.
Desert Knoll is designed with an eye to the classic contemporary architecture that defines the Palm Springs lifestyle; open & exciting. The flat roof, clean lines and wide expanses of glass provide panoramic views, abundant natural light, and erase the line between indoors & out for seamless living & entertaining. At first look, the house blends in perfectly with the desert terrain; huge boulders accented with natural landscaping indigenous to the area. As you approach the tall glass entry, you'll immediately understand the scale & volume of the house. The oversized entry hall with towering ceilings is formal, yet inviting. Desert Knoll was built for entertaining in style. The giant sliding walls of glass in the living room disappear into the wall to make a large open-air pavilion facing the pool and view, providing plenty of lounge seating for everyone, either in front of the indoor living room wood fireplace or around the outdoor fire pit.
The large modern chef's kitchen features high end appliances from A to Z and has a convenient pass-through breakfast bar to the living/dining room. It also provides added privacy for dinner party preparations with a butler's pantry directly behind the kitchen, where you'll find an extra ice machine, wine refrigerator and laundry facilities. For extra flexibility, there are additional large-capacity laundry facilities in the garage. In addition to the generously sized dining table for eight in the main living area, there is an additional outdoor dining table for eight and a gas barbecue grill just outside the kitchen.
Once inside, the walls and gates that secure the property and protect its privacy, the setting is a verdant green tropical landscape dotted with gorgeous outdoor furniture that has a luxurious cooling effect to the eye & the senses.
The Master suite offers a King size bed, walk-in closet and generous private bathroom with jetted soaking tub and walk-in rain shower, as well as a private sitting patio outside the bathroom and second patio facing the pool. The second Master bedroom features a King size bed that can be separated into Twin beds when needed, a private bathroom with walk-in shower, and a private patio off the bathroom. The third bedroom has a King size bed, a built-in desk space and direct access to the pool. In the hallway just outside this bedroom is a full guest bathroom with walk-in shower. All three bedrooms feature brand new comfortable beds and quality linens, so everyone gets a 'good bedroom' in this luxury home.
One of the best features of Desert Knoll is the private pool deck out back. The sparkling blue swimming pool, bubbling spa and shaded lounge area with water misters and a gas fire pit are great places to hang out with a cocktail and enjoy the view to such well-known neighborhoods as Little Tuscany, Chino Canyon, Old Las Palmas and Vista Las Palmas in the foreground, all the way to South Palm Springs in the distance.
The house is protected by a 24 hour alarm system and it has high capacity WiFi for the house and grounds. Each room is equipped with a large flat screen HDTV, DVD players and Bluetooth docking radio clocks. There is a 2 zone Bluetooth high end stereo system that covers the whole house, plus a Bluetooth sound bar in the living room next to the 55' HDTV with DVD.
Please contact us for last minute, midweek and two night specials.
Disponible para huéspedes
Sample booking confirmation and contract. For more pictures go to our website www.Desertknollnet. No cancelations accepted. City taxes and Pool heating additional.
Booking Confirmation
Dear Guest: Thank you for choosing our home for your vacation. We hope that you have a pleasant stay.
The property is located at:
Desert Knoll
(URL HIDDEN)
Palm Springs, CA 92262
Your confirmation is as follows:
Check-in date(URL HIDDEN) , 201 after 3 pm PST
Check-out date(URL HIDDEN) , 201 by 10 am PST
Number of adults: ___
Number of children: ___
Pets: ___

Some highlights:
1.)This is a non-smoking house, inside and out by or on any of the outdoor furniture.
2.)Only 6 people overnight unless more authorized (max 8) and no more than 3 daytime guests. City Rule.
3.)No formal events or parties without authorization.
4.)THIS IS NOT A PARTY HOUSE
5.)NOISE: the city of Palm Springs is getting very strict about noise disturbance. The threshold for fines is 45 decibels which is much lower than you think.
a.No outdoor speakers or music. City Rule
b.Indoor music cannot extend beyond property. City Rule
c.This is a residential neighborhood. Quiet time is a polite 10:00PM, however you must be conscious of noise at any hour or the day and you can be fined regardless.
d.If any neighbor complaints and the city has to send out the police or the security company, you will be immediately evicted and you will automatically lose your deposit and you may be subject to additional fines by the city. No pets without authorization.
SIGN: ______________________
6.)Copy of DL. City Rule
7.)No drone flying in the house, no fireworks, on the house grounds or on the street.
Please initial each page, sign and return the attached rental agreement. Thanks, and have a great vacation!

SHORT TERM RENTAL AGREEMENT
This Short Term Rental Agreement (the "Agreement") is made by and between TBGFT _ ("Homeowner") and ____________________________________ ("Guest") as of the date last set forth on the signature page of this Agreement. For good and valuable consideration, the sufficiency of which is acknowledged, the parties hereby agree as follows:
1)Property. The property is located at(URL HIDDEN) Palm Springs, CA
2)Term of the Lease. The lease begins at 3:00 p.m. o(URL HIDDEN)201 (the "Check-in Date") and ends at 10:00 a.m. o(URL HIDDEN)201 (the "Checkout Date").
3)Furnishings: The property is furnished and includes linens and towels.
4)Rental Party: The rental party shall consist of Guest and the following persons:
___________________________________________________________________________
___________________________________________________________________________
___________________________________________________________________________
5)Maximum Occupancy: The maximum number of guests is limited to 6 persons. Per city ordinance day guests are limited to an additional 3 people. Day guest means they will not be staying overnight at the house. If more than the agreed to number of guests are staying at the property, Guest takes the risk of forfeiting up to the entire amount of the security deposit and being immediately evicted.
6)No Smoking: No smoking is allowed inside and out of the home/Premises; smoking inside of the home may result in eviction and loss of the security/damage deposit.
7)Events or Party's: No events or party's or part will be held at the Property without prior permission from Owner. Additional fees will apply for events. Parties and/or events of any kind are strictly prohibited at the unit/home. In the event that a non-authorized party or event takes place at the property, Guests will be evicted and risks forfeiting part or all of the security/damage deposit in addition to any costs associated with legal remedies that may be necessary.
8)Drones: No drone flying in the house, on house grounds or on the street. You may be evicted and you may lose all or part of your security deposit if you do.
9)Filming: The filming of any still or motion pictures in any format that requires more than 2 persons and/or any specialized gear, apparatus or crew is strictly prohibited unless prior written authorization is obtained. Failure to obtain written authorization will result in immediate eviction and loss of full security deposit.
10)Pets: Unless otherwise provided in California Civil Code 54.2, no animal or pet shall be kept on or about the Premises without Landlord's written consent. Failure to obtain written authorization may result in eviction and full security deposit forfeiture.
11)Damages: Damages will first be covered by insurance obtained by Guest, then by any funds available from Security/Damage Deposit and then by Guest personally and then by all members of rental party.
12)Rules/Regulations: Guest agrees to comply with all Lessor/Owner rules and regulations that are at any time posted on the premises or delivered to the Guest. Guest shall not, and shall ensure that other visitors/guests and licensees of Guest shall not, disturb, annoy, endanger or interfere with other neighbors, or use the Premises for any unlawful purposes, including but not limited to, using, manufacturing, selling, storing or transporting illicit drugs or other contraband, or violate any law or ordinance, or commit a waste or nuisance on or about the Premises.
13)Manual: Guest agrees to review and follow house instructions in Manual provided to Guest at Property and via email.
14)Pool, Jacuzzi, Walkways and Balconies: The Guest is fully aware that swimming is a hazardous activity- and that there are risks inherent to use of the Jacuzzi/SpaPool, including but not limited to, paralyzing injuries and death; furthermore that walkways/balconies in general (including, but not limited to those surrounding pool areas) can be slippery when wet, where injury is likely. Guest agrees to take all steps to protect children & any other guests/visitors from pool risks and acknowledges that guest has sole responsibility from such risks. Guests are strongly cautioned that they and any of their guests must adhere to the following safe practices:
• No diving into the Jacuzzi/Spa/Pool
• No intoxicated persons may use the Jacuzzi/Spa/ Pool
• Children may never be left unattended around Jacuzzi/Spa/Pool.

Jacuzzi/Spa/Pool use Indemnification/Hold Harmless: The Lessor/Owner cannot assure the safety of persons using property containing a Jacuzzi/Spa/Pool. As a consequence, with full knowledge of the above facts and warnings, the Guest accepts and assumes all risks involved in or related to the use of the Jacuzzi/Spa/Pool/walkways/balcony from Guests own use, as well as any other guests/visitors on the premises/property. Guest agrees to release, indemnify, hold harmless and forever discharge Lessor/Owner and Lessor/Owner's successors and assigns from any and all claims, liabilities or causes of action of any kind that Guest/Tenant, member of Guest's party or any of Guest's visitors or invitees may have against Lessor/Owner resulting from Guest's use of the Jacuzzi/Spa/Pool/walkways and balconies.
Guest (Signature) _______________________________________ Date ______________________
(Print Name) ___________________________________________
15)Hold Harmless: Guest assumes all risk of loss or damage to Premises or injury to any person arising out of Guest's occupancy of the Premises, and Guest hereby waives all claims against Lessor/Owner in respect thereto. Guest shall indemnify, protect and defend Lessor/Owner against and hold Lessor/Owner free and harmless from any and all claims and liabilities arising out of Guest's use or occupancy of the Premises or any activity engaged in or use remade by others of the Premises during the term of this agreement.
16)Delivery of Property: In the event that Lessor is unable to deliver the Property to Guest under this Agreement for any reason what-so-ever, including but not limited to: delay in construction or repair, unlawful hold-over by a prior tenant, fire, eminent domain, act of nature, Guest agrees that Guest's sole recourse, as a result of such condition, is a full refund of appropriate rents previously paid to Lessor by Guest for the nights the home is not available to Guest for move in. Pursuant to the terms of this Agreement, Guest expressly acknowledges that in no event shall Lessor be liable for any consequential damages to Guest, including, but not limited to: damages arising from; cancellation of Guest's visit; costs of Guest's locating replacement accommodations; the difference between the costs of replacement accommodation and the Rent stated herein.
17)Deposit: In addition to the damage insurance you have obtained, the deposit is for security/damage and any other purposes deemed valid by the Homeowner and shall be refunded in full within 30 days of the Checkout Date provided no deductions are made due to:
i)Damage to the property or furnishings;
ii)Any fees or extra time, associated with false alarms charged by alarm company or police.
iii)Any overuse of more than 20% of normal gas or water utility usage.
iv)Any overuse of AC above $15/day.
v)Unauthorized pets.
vi)Unauthorized parties or events.
vii)Unauthorized number of night or day time guests.
viii)Dirt or other, requiring excessive cleaning.
ix)Lost keys or garage openers.
x)Additional Pool use.
xi)Any other cost incurred by Homeowner due to Guest's stay.
xii)Ticket issued to guest by city and/or ticket issued to owner due to guest actions.

18)Cancellation Policy and fees: Our cancelation policy overrides Airbnb cancelation policies. If Guest wishes to cancel his/her reservation,
a)there is an automatic $400 cancelation fee.
b)100% of cleaning fees, taxes, pool heating fees and the deposit will be refunded upon cancelation.
c)100% of rental fee (less the $400), will be refunded if cancelled 90 days prior to the Check-in Date and within 30 days of Booking (Booking is when the property is no longer available to others to rent - usually when you pay).
d)If you need to cancel we will relist the property to try and obtain alternative guests to mitigate your expenses, however Guest will remain responsible for any amount not covered by alternative guests, if any are found or not found.
19)Maintenance: Guest shall properly use, operate and safeguard Premises, including if applicable, any landscaping, furniture, furnishings and appliances, and all mechanical, electrical, gas and plumbing fixtures, and keep them and the Premises clean, sanitary and well ventilated. Guest shall immediately notify Lessor of any problem or malfunction. Guest shall be charged for all repairs and replacements caused by Guest, pets, guests or licensees of Guest, excluding ordinary wear and tear. Guest shall be charged for all damage to Premises as a result of failure to report a problem in a timely manner. Guest shall be charged for repair of drain blockages or stoppages, unless caused by defective plumbing parts or tree roots invading sewer lines.
20)Entry: With Lessor's/Owner notice to Guest, Guest shall make Premises available to Lessor or representative of Lessor/Owner, for the purpose of entering to make necessary or agreed upon repairs, maintenance requests or to supply necessary or agreed services.
21)Holdover: If Guest remains in possession of the home after the expiration of stated term without consent of Lessor/Owner, Lessor/Owner may collect rent from Guest in an amount equal to 1.5 times the prior rent, prorated on a daily basis for each day Guest remains in possession. unless cause or contributed to by the negligence or willful misconduct of Lessor, its agents or employees.
22)Lost, Stolen or abandoned articles: Owner is not responsible for any lost, stolen or abandoned articles. In addition to the cost of shipping, there will be a $50.00 charge for any returned articles.
23)Time of Essence; Entire Contract; Changes: Time is of the essence. All understanding between the parties are incorporated in this Agreement. Its terms are intended by the parties as a final, complete and exclusive expression of their Agreement with respect to its subject matter, and may not be contradicted by evidence of any prior agreement or contemporaneous oral agreement. If any provision of this Agreement is held to be ineffective or invalid, the remaining provisions will nevertheless be given full force and effect. Neither this Agreement nor any provision in it may be extended, amended, modified, altered or changed except in writing, signed by both parties. This Agreement is subject to California landlord-tenant law and shall incorporate all changes required by amendment or successors to such law. This Agreement and any supplement, addendum or modification, including any copy, may be signed in two or more counterparts, all of which shall constitute one and the same writing.
24)Mediation:
a)Lessor/Owner and Guest agree to mediate any dispute or claim arising between them out of this Agreement, or any resulting transaction, before resorting to court action. Mediation fees, if any shall be divided equally among the parties involved. If, for any dispute or claim to which this paragraph applies, any party commences an action without first attempting to resolve the matter through mediation, or refuses to mediate after a request has been made, then that party shall not be entitled to recover attorney fees, even if they would otherwise, be available to that party in any such action.
b)The following matters are excluded from mediation. (i) an unlawful detainer action (ii) the filing or enforcement of a mechanic's lien; and (iii) any matter within the jurisdiction of a probate, small claims or bankruptcy court. The filing of a court action to enable the recording of a notice of pending action, for order of attachment, receivership, injunction, or other provisional remedies, shall not constitute a waiver of the mediation provision.
25)Attorneys' Fees: If any legal action or other proceeding is brought for the enforcement of this agreement, or because of an alleged dispute, breach, default, or misrepresentation in connection with any of the provisions of this agreement, the successful or prevailing party shall be entitled to recover
26)Insurance: We encourage all renters to purchase traveler insurance.
27)Payment: I agree that all rental monies are non-refundable per cancellation policy above. I have read my rights to purchase travel insurance.
The parties agree to the terms of this Short Term Rental Agreement, as evidenced by the signatures set forth below.
HomeownerGuest:
___________________________________
Name (print)Name (print):
Date: Date:
Phone # (during stay): Home Address:
____________________________________
Phone # (during stay):__________________


Exhibit A - RENTAL RULES

NO SMOKING. Period - If you smoke in this house you will be evicted, your entire deposit is forfeited, and you may be liable for additional charges. NO exceptions.
NO PETS WITHOUT APPROVAL - You are required to receive approval for pets. If you bring a pet without prior approval, entire deposit is forfeited, you may be evicted and you may be subject to additional fees, so be sure to tell us if you plan to bring your pet. Dogs only allowed (only 1). No cats. If you have been approved to have a pet in the house, no pets on the furniture, beds or pool. Use pet beds, pick up pet poop from the yard and garden.
OCCUPANCY: You must be at least 27 years of age to sign our vacation rental contract and to occupy said vacation rental property. Desert Knoll's maximum occupancy is 6 people. Undisclosed guests will result in loss of rental fees paid, complete forfeiture of security deposit, and all guests being evicted. Guests that disturb the peace and quiet of neighbors will be evicted with no refund of rental fees paid and may forfeit a portion or all of refundable deposit. Use of OUTDOOR SPEAKERS are prohibited by the City of Palm Springs for rentals less than 1 month. Owners or agents are not responsible for accidents, injuries, loss of money, jewelry, or valuables of any kind.
This is a residential neighborhood, a polite quiet time is 10:00PM.
NO drone flying in the house, on the house grounds or on the street.
People other than those in the Guest party set forth above may not stay overnight in the property. Any other person in the property is the sole responsibility of Guest.
The house is privately owned; the owners are not responsible for any accidents, injuries or illness that occurs while on the premises or its facilities. The owners are not responsible for the loss of personal belongings or valuables of the guest. By accepting this reservation, it is agreed that all guests are expressly assuming the risk of any harm arising from their use of the premises or others whom they invite to use the premise.
Keep the property and all furnishings in good order. Only use appliances and furniture for their intended uses. Tenant is to maintain the house during occupancy and is responsible for the repair and or replacement for any breakage, damages, or loss caused by tenant or any guest of tenant.
Housekeeping: There is no daily housekeeping service. While linens and bath towels are included in the unit, daily maid service is not included in the rental rate.
Hot Tub and Pool: Children under a certain age, pregnant women and other persons should not use a hot tub. Please consult with your care provider. No children under the age of 8 permitted in the hot tub at any time without adult supervision. Use at your own risk. Our spa/pool keepers sanitize, and replenish chemicals on a regular basis. Hot tub and pool are not supervised, do not leave children unattended. Do not leave the tub/jets on after you have stopped using it. This will incur additional utility charges to your deposit.
Fireplace: The fireplace a wood burning fireplace, if you use it, make sure the flue is open.
Water and Septic: The property is on a septic systems. The mineral content in the water is high. The septic system is very effective; however, it will clog up if improper material is flushed. DO NOT FLUSH anything other than toilet paper. No feminine products should be flushed at anytime. If it is found that feminine products have been flushed and clog the septic system, you could be charged damages of up to $500.
ARRIVAL PROCEDURES: You will be provided with a code to obtain the key from the lock box, a code for the alarm system, the security word for the Alarm Company and the code for the Safety Box. If you are unable to enter the correct Alarm code and you cannot provide the correct security word, the police will be called by the Alarm Company. Any charges by the police will be deducted from your deposit.
SUMMER AIR CONDITIONING POLICY: Please read, as your Security Deposit may be at risk!
To ensure your comfort, please follow these simple steps.
1.On your arrival, thermostats are normally set on AUTO between 62 and 89, and the fan on AUTO.
2.DO NOT LOWER the temperature on the thermostats more than five (5) degrees at a time, or the air conditioner may freeze up, shut down and blow hot air.
3.If the house is too warm for your enjoyment, simply lower the temperature in stages, no more than five (5) degrees lower than the current temperature in the room.
4.Once the house has begun to cool down and the air has cycled off, turn down the temp another 3 to 5 degrees and repeat the process as needed, waiting for the AC unit to cycle off.
5.Please do not set temperature lower than 75 degrees at any time, especially when it is very hot outside. Setting the temperature too low will not cool the room faster but it will cause the air conditioner to freeze-up and shut off.
6.If the AC freezes up, the solution is to turn the system to OFF, and switch the fan from AUTO to ON and let the fan run for approximately 1 to 2 hours. This will de-ice the air conditioner. Then, switch back to AUTO and start again.
7.Depending on conditions, it may take several hours for the house to cool down. If after 3 hours or so, the temp has not fallen (feel for the airflow directly at the vent where it should feel cooler than the room air), call us. We will send a repairman to you as soon as possible.
8.If the vents are blowing cool air, the only solution is patience, as it is working and will eventually cool down.
9.If the air conditioner is frozen up, not due to mechanical failure, you may be charged for the service.
10.Summer AC fees: We encourage guests to manage the AC responsibly. The house has a large 60 panel solar panel system, is extremely well insulated and we provide an additional $15 daily credit towards AC usage. Irresponsible management (doors opens basically), of AC can cost over $50/day. Guests agrees to reimburse homeowner from deposit first and then personally for any usage above $15/day. (its possible that by the time you rent this an automatic shut off of AC when doors open will be operational.).
WINDY CONDITIONS: Turn off misters, firepit, close and tie umbrellas, collect loose items and bring inside.
CHECK OUT TIME is 10am unless alternate arrangements have been made prior to your departure. Late check-out will result in an additional days rent, late check-out fees or loss of deposit. All keys, garage door openers etc., issued to you must be returned per our instructions. Failure to do so will result in a minimum $25.00 recovery fee deducted from your deposit plus locksmith if applicable and an additional days rent. Lost Keys will also be charged the cost to replace the keys and the locksmith to change the house locks. Failure to lock doors and windows and set Alarm may result in loss of deposit. When leaving: Set A/C to 90 in warm or summer months and fans to auto. Otherwise make sure that both AC and auto fan are OFF in both controls. Turn off heater in winter or cold months and turn off auto fan in both controls. Do not turn off refrigerator, water heater or other major appliances. Failure to turn off A/C may result in a significant charge to your deposit.
HOUSE CONDITION/HOUSEKEEPING: The property is rented with the understanding that you will leave the property in reasonably the same condition as you found it when you checked in. Please wash dishes, take out garbage, and feel free to begin a load of sheets or towels. Although rare, if you leave the house in excellent condition, you may enjoy a partial refund of your cleaning fee. If the house has been soiled beyond normal usage or if there is excessive laundry, a minimum bookkeeping fee of $25.00 plus $42.00 per hour per person charge will be deducted from your deposit for excessive cleaning, along with any charge for damages.
NO SMOKING
Atención a los huéspedes
Phone and email mostly and occasionally in person. Let us know if you want the pool preheated $35 and or the pool heated during your stay $45/day. These are charged separately unless just like taxes you tell us before booking and then we will include in proposal to you. Special events like Coachella, White party, New Years, Valentines, thanksgiving may have additional special requirements like higher deposits, higher cleaning fees, longer minimum nights rental, extra verification.
Otros aspectos destacables
BASIC HOUSE RULES: See contract for full list.
No smoking.
Not a party house.
No pets without authorization. One pet max.
No extra people without authorization. Max 6 adults and 2 small children.
No events without authorization
Strict limit on overnight and daytimes guests
Cancelation policy overrides Airbnb cancelation policy.
Este espacio dispone de los servicios básicos para viajes de negocios.
Apto para familias y niños
Timbre / Intercomunicador inalámbrico
Depósito de seguridad $600
Precio por fin de semana $610 / noche
Comunícate siempre a través de Airbnb
Para que tus pagos estén protegidos, nunca transfieras dinero ni te comuniques desde afuera de la página o la aplicación de Airbnb.
Dormitorio 1
1 cama tamaño king
Dormitorio 2
1 cama tamaño king
Dormitorio 3
1 cama tamaño king, 2 camas individuales
No se admiten fiestas o eventos
La hora de llegada es a partir de las 15:00
Salida antes de las 10:00
Llegada con acceso libre con lockbox
See online contract for all rules and instructions. No events, NOT A PARTY HOUSE, person booking must be over 30 per PS regulations, No more than 6 adults, and 2 small children allowed. Please tell us about yourself and other guests, no pets without prior approval, max one pet. City taxes and optional pool heating charged separately. NOT A PARTY house. No loud music, No SMOKING. City of Palm Springs ID #2392
Detector de monóxido de carbono
El número mínimo de noches por estancia para este espacio varía.
a 40/50 couple from OC with a 2 1/2 year old.
Idiomas:
English, Español, Français
Índice de respuesta:
100%
Tiempo de respuesta:
en menos de una hora
Descubre otras opciones en Palm Springs y sus alrededores
Más alojamientos en Palm Springs: